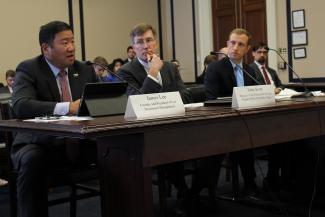 James Lee Testifies To House Committee on Millennial Retirement Security
I would like to share that I was invited to share my experience working with millennial clients before a House Committee.
The hearing, which was held in Washington, DC on September 12, was designed to help lawmakers understand retirement security issues facing millennials.
The other panelists asked to testify were John Scott, Director of the Retirement Savings Project at Pew Charitable Trusts and Shai Akabas, Director of Economic Policy at the Bipartisan Policy Center.
My testimony focused on the obstacles and challenges I see when working with millennial clients as well as how the financial planning community is adapting to meet their unique needs.
It was an honor to be asked to testify and I applaud all public officials that are addressing this important issue.
For those of you who are interested in reading my testimony, I've linked to it HERE.